Back-to-School Tips for Kids and Parents 2019
Author: Hannah Henry
Community Involvement
Published: Tuesday, 30 Jul 2019
---
Sharing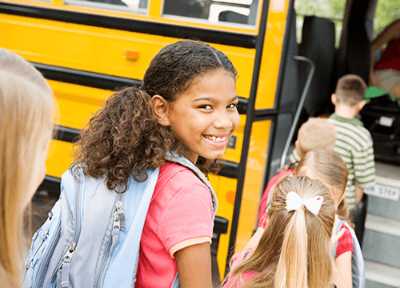 Image caption: Girl getting on bus
Do you remember counting down the weeks left of summer before the early mornings and staying up late with homework? The majority of students dread going back to school because it's hard to switch their minds from 'fun in the sun' to 'back in the classroom'. Whether your student is starting back at a new school or is just moving into a new classroom, these tips are sure to make their (and your) transition back to school less stressful.
Back to a Routine
Routines are important for every student. It's a way to provide structure through their development. Through a routine, students establish healthy life habits that transfer into adulthood. While summer might have thrown all of the '"at-home routines" out the window, you can re-establish them.
Here are the most common routines that are forgotten over summer break:
Early Wake-Up
Homework / Studying
Meal Times
Down-Time
Curfews / Bed Time
Preparing for the Week or Next Day
Balancing School and Extra-curriculars
Chores
The best way to reintroduce these routines to your student is by slowly incorporating them two-weeks before they go back to school. By slowly bringing these habits back, you and your student are less likely to fail.
Setting and Keeping Goals
Despite goals being a major motivator to youth staying on top of their everyday duties and tasks, it's a crucial component in the professional realm as well. Through repeated practice with goals and goal tracking, you're not only assisting your student in holding them accountable for their work and performance at school, you are preparing them for the real-world.
As your student creates their goals, be sure they are making them SMART.
S- Specific Goals
M- Measurable. Be sure to ask "How are you going to tell if your goal has been reached?"
A- Attainable. Ensure the goals your student is making are possible and realistic.
R- Relevant. If your student is creating goals for their performance at school, ensure they aren't including goals that are outside school such as sports, at home goals, etc.
T- Timely. Be sure your student is including deadlines for their goals.
To ensure their goals are met, be sure to have them down in writing. In fact, people who write and describe their goals are 1.2 to 1.4 times more likely to successfully complete them than those who do not.
Another key piece to setting educational goals, is to ensure students have a support system. This includes parents, peers, teachers, and anyone else who makes a daily impact on your student. A support system shouldn't only be recognized as someone who celebrates a win. They should also be motivating and holding your student accountable for their goals. A lot of the time, a teacher may have a one-on-one with a student to discuss these types of goals when a negative element impacts their performance, but most teachers are willing to have a sit down with a student to understand how they can assist in the child's educational goals.
When it comes down to it, back to school season is just a time to get back to your normalized routine. These tips should be able to help you, and your family, get back to the routine that they know in no time!
Interested in going back to school yourself this fall? JA is looking for classroom volunteers! Learn more here.
"It's a way to expand our curriculum without having to put out more resources. That's a win for everyone."
Amy Kneesey, Vice Chairman of the Brevard County School Board
"JA is relevant to my school, more so now than ever."
Beth Westfall, Assistant Principal West Side Elementary School
"Junior Achievement is an outstanding, motivating program for our elementary students. Several of [our teachers] had JA volunteers last year and all had great praise for the program"
Hilah R. Mercer, Principal Cambridge Elementary Magnet School
"I have long believed that this JA experience is so valuable for our UCF students and that actually it is a rare win for all experience, the UCF students, the school teachers, the school students, the UCF Education Profs, and the JA sponsors."
Michael Johnson, PhD, UCF Professor, College of Education
We use cookies to provide you a personalized experience. How we do this is by analyzing user behavior on our site and sharing data with our advertising and analytics partners. You consent to our cookie policy if you continue to use this website.