Be A Game Changer
Volunteers Help Level the Playing Field of Life
Author: Kelsey Matzinger
Community Involvement
Published: Monday, 30 Jan 2023
---
Sharing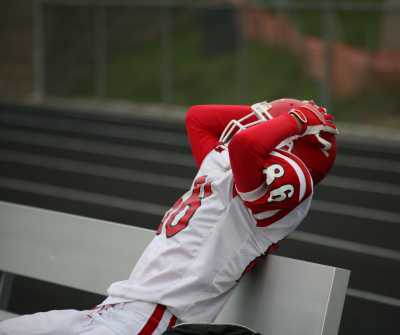 Image caption: A young frustrated football player
"Practice makes perfect." – Benjamin Franklin
This is a quote we have heard from the time we were little even into adulthood. If you were an athlete, you heard it from your coaches, support staff, and parents. Now imagine this quote never existed and instead read, "Good luck. I hope it works out for you." No one explained the rules of the game. No practice. No game plan. No coaches. Just go out there and do your best, kid, but your best wasn't good enough. It would be unfair, but nobody would blame the player. They would blame the circumstances.
Now, imagine a world where no one explains the rules of the game of life. No one explains the rules. No discussions of how money works. No game plan for how education supports your future job or career. And certainly, no coaching about how to start or run a business. We're told just go out there and do your best, kid. But our best isn't good enough. We're unprepared for the game. This time, though, people blame the player. Not the circumstances. A more fitting saying would be, "it's a dog-eat-dog world". The reality is that in sports, athletes are never asked to go into a game unprepared, but in life, we are not only asked, but expected to just figure it out as we go along…until now.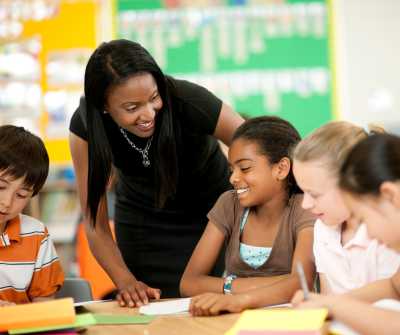 Image caption: A volunteer teaching students.
Volunteers are the game-changer!
They are the player that ignites those around them to do better and be better. They are the player that changes the "on court" or "on field" energy that's a spark plug and leads the team to victory. They are the ones that young people need. The next generation needs someone who will share their personal and professional experiences and skills to help them make the connection between what they learn in school and life outside the classroom. Someone they can relate to and yet aspire to be. They need the mentors and role models most of us had as kids.
Our research shows that most students who have experienced JA go on to have a greater belief in self and sense of purpose. They report higher levels of career satisfaction, confidence in managing money, and willingness to start and run a business.
We invite you to rewrite that game plan of young people's lives and be the coach you needed to succeed by exploring local volunteer opportunities! JA volunteers can work with their local JA Area office to review the various learning experiences which include volunteer engagement with students from kindergarten to twelfth grade. Volunteers can choose from one or multi-visit experiences, varied time commitments, as well as connecting with students virtually or in-person. JA volunteers are provided with training and access to JA curriculum, materials, and resources to support our financial literacy, work and career readiness, and entrepreneurship programs.
So, whether you are working in an office, hybrid, or from home, there are many opportunities for you to find the best way to engage with students. They need your support. Suit up. It's game time.
To learn more about Junior Achievement, visit www.JA.org/Volunteer.
To locate the JA Area office nearest your geographic location, visit: https://jausa.ja.org/about/locations
"It's a way to expand our curriculum without having to put out more resources. That's a win for everyone."
Amy Kneesey, Vice Chairman of the Brevard County School Board
"JA is relevant to my school, more so now than ever."
Beth Westfall, Assistant Principal West Side Elementary School
"Junior Achievement is an outstanding, motivating program for our elementary students. Several of [our teachers] had JA volunteers last year and all had great praise for the program"
Hilah R. Mercer, Principal Cambridge Elementary Magnet School
"I have long believed that this JA experience is so valuable for our UCF students and that actually it is a rare win for all experience, the UCF students, the school teachers, the school students, the UCF Education Profs, and the JA sponsors."
Michael Johnson, PhD, UCF Professor, College of Education
We use cookies to provide you a personalized experience. How we do this is by analyzing user behavior on our site and sharing data with our advertising and analytics partners. You consent to our cookie policy if you continue to use this website.