Countdown to Resolutions for Teens
Author: Hannah Henry
Work Readiness
Published: Friday, 21 Dec 2018
---
Sharing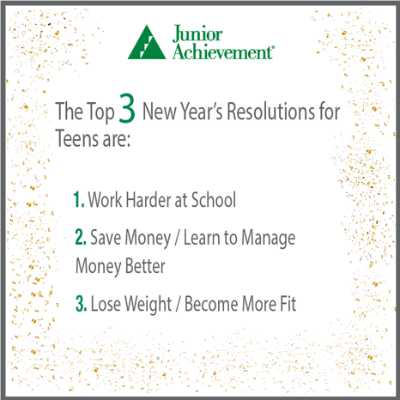 Image caption: Image for the New Years resolution article
How old were you when you made your first New Year's Resolution? Do you remember what it was?
With 2019 nearly upon us, JA wanted to know if teens are making their resolutions for this upcoming year, and if so, what they were. According to a survey of 1,000 U.S. teens, conducted by Junior Achievement USA and ORC International, nearly 9 in 10 teens (88%) are planning on making New Year's Resolutions. The resolutions they are looking to achieve:
Achieving Successful Resolutions
How do those who make resolutions, keep them?
While some have believed that a habit can stick after just 21 days, science has found this to be false! According to research conducted by the University College London, it takes an average of 66 days to create a habit.
To keep resolutions sustainable, here are our top tips for the teens that share our resolution findings:
1. Pick 1 - 2 resolutions!
Too many resolutions and you'll be overwhelmed; yet too few and you won't be challenging yourself. Stick with a range of 1 to 2 depending on how committed you are to the change you want for 2019!
2. Tell others about your resolution!
By sharing your resolutions with those who you are closest to will not only build a support system, but will also make you more accountable!
3. Write it down!
Everyone needs a reminder. Writing down your resolutions will give you a goal that you can't change should the resolution get difficult. Be sure to keep the piece of paper you wrote down your resolution in a location that you will visit daily.
4. Pat yourself on the back!
It's tough to maintain change, especially for 365 days! Break down your resolution goal into 3 "mini-goals". The first goal should be focusing on getting you off to a good start, the second should challenge you a little further than the first, and the last mini-goal should be where you achieve your resolution. After accomplishing each goal, be sure to treat yourself! Incentives are always crucial for keeping motivation up and doubt down!
May your holiday season be filled with joy and may your resolutions be full of success!
"It's a way to expand our curriculum without having to put out more resources. That's a win for everyone."
Amy Kneesey, Vice Chairman of the Brevard County School Board
"JA is relevant to my school, more so now than ever."
Beth Westfall, Assistant Principal West Side Elementary School
"Junior Achievement is an outstanding, motivating program for our elementary students. Several of [our teachers] had JA volunteers last year and all had great praise for the program"
Hilah R. Mercer, Principal Cambridge Elementary Magnet School
"I have long believed that this JA experience is so valuable for our UCF students and that actually it is a rare win for all experience, the UCF students, the school teachers, the school students, the UCF Education Profs, and the JA sponsors."
Michael Johnson, PhD, UCF Professor, College of Education
We use cookies to provide you a personalized experience. How we do this is by analyzing user behavior on our site and sharing data with our advertising and analytics partners. You consent to our cookie policy if you continue to use this website.