Getting Your Child Set Up with a Bank Account
Author: Hannah Henry
Financial Literacy
Published: Tuesday, 11 May 2021
---
Sharing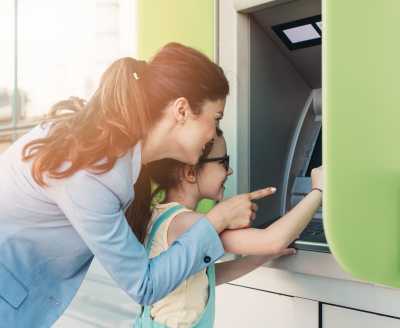 Image caption: Child at ATM with parent
A study by Bankrate in 2019 found the average American adult will stick with his or her bank for slightly over 14 years. Additionally, for millennials (ages 24-39 at the time of the survey), the study found they had their checking account at the same bank for more than nine years (back in 2020). With the early investment in their financial future, the future is bright for young savers.
Below we will discuss how you can set your child up with his or her first bank account, the benefits, and tips for how you can establish smart financial habits!
How to Choose the Right Bank
Ideally, when you are looking at opening a bank account for your child, the parent or guardian will need to be listed on the account as a joint or custodial owner. In a joint account, you and your child will have equal control of the account. In this type of account, there are two or more owners that have rights to withdraw, deposit, and manage the account's funds. A custodial account is maintained by a "fiduciary responsible party" (the parent or guardian) on behalf of the "beneficiary" (the child/minor). To learn more about a custodial account, check out Investopia.
Additional considerations to keep in mind as you're looking at banks:
Compatibility with your bank


Should you ever need to exchange funds with your child, you want to ensure you can do so with ease. Another reason you will want compatibility with your bank institution is to ensure you can monitor the activity within your child's bank account.




Learning Tools
Some banks have ways to set up financial goals and track the account holder's progress towards them. This is an excellent way for your child to see their money working for them towards their goals.


Access to the Account
While most banks have apps to access your bank account, you will want to ensure you will have access online and on the go.


Account Controls
Should you need to assist your child in developing their financial foundation, some bank accounts offer parents/ guardians the ability to step in and set spending controls. While this might not be a feature all parents or guardians want, it is one to consider.


Interest Rates & Fees


As with anything, you should check to see if there are any hidden interest rates, fees, or other conditions when opening a bank account. Be sure to ask or look for ATM fees, minimum balance fees, overdraft charges, and monthly service fees.
What You Will Need
Most banks will let you know what you need to set up a bank account in-person, over the phone, or online when setting up an account.
Here are some of the primary documents you will need:
Parent/ Guardian
Driver's license
Social Security number
Proof of address
Child/ Minor
Social Security number
Birth certificate
After Setting Up a Bank Account
Once you have set up a bank account with your child, be sure to go through their monthly bank statements with them. This will help to get them in a routine of checking on their financials but also help them to understand the essential areas within their bank account they should focus on. Check out JA's budgeting income and spending worksheets to help your child navigate their financial goals.
"It's a way to expand our curriculum without having to put out more resources. That's a win for everyone."
Amy Kneesey, Vice Chairman of the Brevard County School Board
"JA is relevant to my school, more so now than ever."
Beth Westfall, Assistant Principal West Side Elementary School
"Junior Achievement is an outstanding, motivating program for our elementary students. Several of [our teachers] had JA volunteers last year and all had great praise for the program"
Hilah R. Mercer, Principal Cambridge Elementary Magnet School
"I have long believed that this JA experience is so valuable for our UCF students and that actually it is a rare win for all experience, the UCF students, the school teachers, the school students, the UCF Education Profs, and the JA sponsors."
Michael Johnson, PhD, UCF Professor, College of Education
We use cookies to provide you a personalized experience. How we do this is by analyzing user behavior on our site and sharing data with our advertising and analytics partners. You consent to our cookie policy if you continue to use this website.