JA of the Space Coast | Project HOPE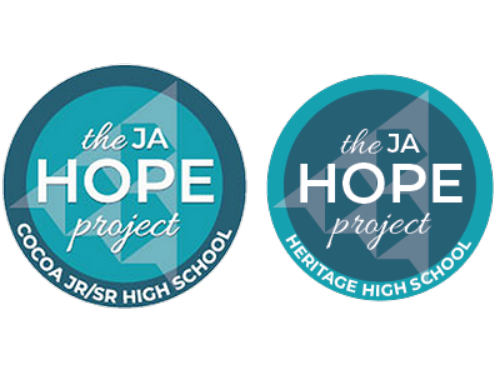 We've identified a group of signature programs that will provide learning experiences, events and career connected curriculum to expose students to real world activities that will develop mindsets to build thriving communities. A full list of programs can be found at the Programs Page.
Programs can be educator led or outside volunteers can deliver materials.
The JA HOPE Scholarship is a scholarship program for graduating Brevard County seniors of low- and middle-income homes pursuing post-secondary education, training, or certification.
Eligibility Requirements:
JASC offers ten scholarships to deserving and hardworking Brevard County students each spring in the amount of $2,000.00. Winners are selected on the basis of scholastic ability as well as organizational or extracurricular activities. Students are evaluated on achievement, leadership, college and career potential and personal reflection. After submitting an online application, top applicants will be invited to a remote interview with the JASC Scholarship Committee. Students must currently be a high school senior and submit a completed online application. Finalists must participate in an interview.
*Students only eligible to receive 1 JA HOPE Project Scholarship in their lifetime.
Please Scan the QR code for more details.
Organizations Partnering With Us
We use cookies to provide you a personalized experience. How we do this is by analyzing user behavior on our site and sharing data with our advertising and analytics partners. You consent to our cookie policy if you continue to use this website.