JA Assembling Your Career
JA Assembling Your Career helps provide middle school and high school students with practical information about STEM (Science, Technology, Engineering, and Mathematics) careers and ways students can prepare for these careers while still in school.


Applications
JA Assembling Your Career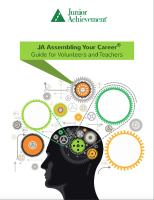 JA Assembling Your Career
promotes the valuable involvement of teachers, corporate volunteers, and non-profit youth programs to engage middle and high school students in STEM Careers. The Guide for Volunteers and Teachers as well as the online tools provide practical information about STEM careers and ways for students to prepare for these high-demand careers while still in school.
Following participation in the supplement, students will be able to:
- Articulate why STEM careers and STEM skills are important to their futures, regardless
of where they live now or where they choose to live as an adult.
- Identify two-three STEM fields that they wish to explore beyond these activities.
- Chart a path to get them from where they are now to a STEM career.
Middle High School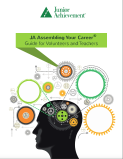 JA Assembling Your Career Guide
Guide for Volunteers and Teachers

Download Document
"It's a way to expand our curriculum without having to put out more resources. That's a win for everyone."
Amy Kneesey, Vice Chairman of the Brevard County School Board
"JA is relevant to my school, more so now than ever."
Beth Westfall, Assistant Principal West Side Elementary School
"Junior Achievement is an outstanding, motivating program for our elementary students. Several of [our teachers] had JA volunteers last year and all had great praise for the program"
Hilah R. Mercer, Principal Cambridge Elementary Magnet School
"I have long believed that this JA experience is so valuable for our UCF students and that actually it is a rare win for all experience, the UCF students, the school teachers, the school students, the UCF Education Profs, and the JA sponsors."
Michael Johnson, PhD, UCF Professor, College of Education
We use cookies to provide you a personalized experience. How we do this is by analyzing user behavior on our site and sharing data with our advertising and analytics partners. You consent to our cookie policy if you continue to use this website.